How Can We Help?
Search for answers or browse our knowledge base.
When I record an observation in OIM, what do the parents see?
When you record an observation in OIM, the parents receive a message after 5 p.m. that includes the notes recorded in the Further information section of the OIM observation form.
The parents receive the message in two places:
In the Messages section on the Parent Portal

A notification sent to the mParent application.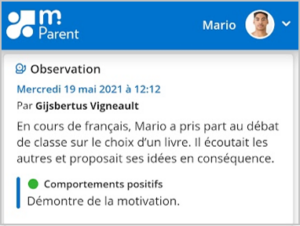 Important
There are two prerequisites to parents receiving OIM observations:
Your school services centre must have activated the feature and configured the settings as required.
You need to click Share with parents when you complete the observation form.
Going further